Mary Cairncross Scenic Reserve is one of three Environmental Visitor Centres proudly managed by the Sunshine Coast Council.
The other two sites are:
Maroochy Regional Bushland Botanic Garden (MRBBG)
Located in Tanawha at the headwaters of Mountain Creek, MRBBG boasts 82 ha of eucalypt forest, creek-side rainforest, lagoons and palm gullies.  It features bush walking trails, natural playgrounds, site-specific artworks and the Arts and Ecology Centre.  To find out more, visit the website.
Maroochy Wetlands Sanctuary (MWS)
Located in Bli Bli on the banks of the Maroochy River, MWS is home to a diversity of vegetation types. An accessible boardwalk meanders through wet eucalypt forest, melaleuca forest, casuarina woodland, salt marsh and mangroves.  To learn more, visit the website.
More amazing animals
A wallaby with status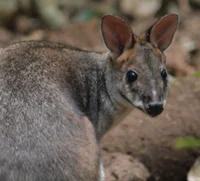 If you are quiet in the forest you may be lucky enough to spot a Red-legged Pademelon hopping across the track. The Pademelon is a solitary, shy animal that is active both during the day and night, feeding on fallen rainforest leaves and fruits.