The macadamia is a well-known fruiting tree whose natural endemic range is limited between northern New South Wales and South East Queensland. Macadamia was one of the first native species to be grown by non-Indigenous Australians as a commercial crop.
Macadamia _ternifolia_ is sometimes called the 'Maroochy nut' is only found between northern Brisbane and Gympie. They grow to a medium height (up to 18m) with clusters of three leaves with spiny edges at each node. Long, pendant shaped pink flowers blossom during spring.
The woody nuts of this particular species, unlike the commercially grown species have a small and very bitter nut.
Macadamia ternifolia is listed as a 'vulnerable' species with very few found growing in the wild. Monitoring invasive species and preventing further clearing of lowland rainforest is vital for future survival.
Want to learn more?
Timber-getting and European history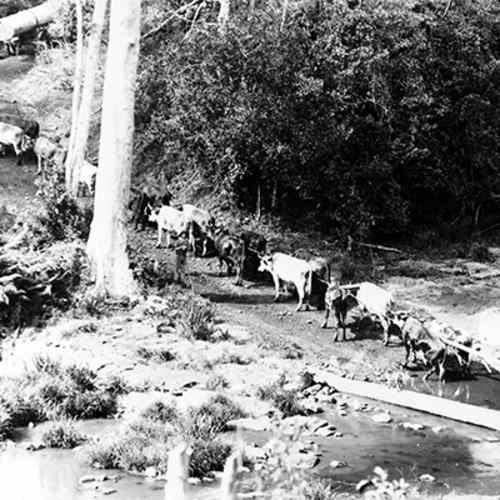 Part of Our Story
The Maleny area was extensively cleared for prized hardwood and grazing.